Description
Multi-Channel 8-Channel Pipettes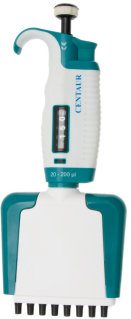 | | | | | |
| --- | --- | --- | --- | --- |
| Catalog No. | Volume Range (ul) | Increment (ul) | Accuracy (+/-%) | C.V. (+/-%) |
| 510-MC8A | 0.5 – 10 ul | 0.02 | 1.5 | 1.0 |
| 220-MC8A | 2 – 20 ul | 0.02 | 0.8 | 0.4 |
| 550-MC8A | 5 – 50 ul | 0.10 | 0.8 | 0.4 |
| 10100-MC8A | 10 – 100 ul | 0.2 | 0.8 | 0.3 |
| 20200-MC8A | 20 – 200 ul | 0.2 | 0.8 | 0.3 |
| 40300-MC8A | 40 – 300ul | 0.2 | 0.8 | 0.3 |
Multi-Channel 12-Channel Pipettes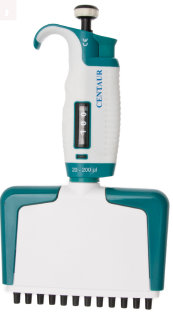 | | | | | |
| --- | --- | --- | --- | --- |
| Catalog No. | Volume Range (ul) | Increment (ul) | Accuracy (+/-%) | C.V. (+/-%) |
| 510-MC12A | 0.5 – 10 ul | 0.02 | 1.5 | 1.0 |
| 220-MC12A | 2 – 20 ul | 0.02 | 0.8 | 0.4 |
| 550-MC12A | 5 – 50 ul | 0.10 | 0.8 | 0.4 |
| 10100-MC12A | 10 – 100 ul | 0.2 | 0.8 | 0.3 |
| 20200-MC12A | 20 – 200 ul | 0.2 | 0.8 | 0.3 |
| 40300-MC12A | 40 – 300ul | 0.2 | 0.8 | 0.3 |
Description:
Quick, easy volume setting… simply turn the plunger.
Click stop digital adjustable volume mechanism.
Easy to calibrate and service… calibration tool supplied.
Ergonomic, lightweight design with a soft plunger movement.
Two stage plunger operation for "blow-out" step during pipeting.
Individually calibrated in accordance with DIN 12650 Standards and supplied with a computer generated calibration report.
Specifications:
Fully Autoclavable to avoid cross-contamination.
Color coded by volumes for easy identification.
Nozzle assembly rotates 360 degrees.
Design Features:
Soft Body
Designed for comfort and minimizes hand fatigue.
Ejector Knob
Designed for easy tip ejection.
Serialized
Each pipette has a unique serial number for traceability.
Simple Volume Adjustment
Just turn the plunger.
Volume Display
Incremental volume settings with 3 digit display and click stop mechanism
Nozzle Assembly
Rotates 360 degrees
Tip Ejector
Integral tip ejector.